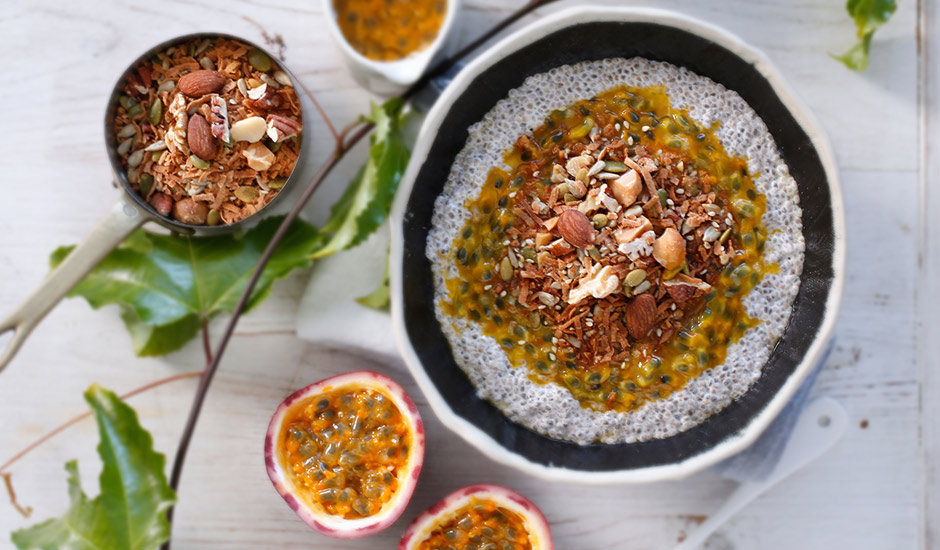 Ingredients
For the porridge
130g (1 cup) chia (black or white, or a mix)
650ml (2 2/3 cups) coconut milk
Pinch salt
1-2 cups hot water (optional)
To Top:
1/4 cup mixed unsalted nuts (try pecans, walnuts, almonds, or macadamias)
1/4 cup mixed unsalted seeds (try pumpkin seeds or sunflower seeds)
1/2 cup coconut flakes (or shredded coconut)
For the passion fruit sauce:
3 Tbsp honey
6 passionfruit
Method
For the porridge, place chia seeds, coconut milk and salt in a pan on low-medium heat. Bring to a simmer, cover, and let cook slowly for about 6 minutes. Set aside and keep warm.
Pre-heat the oven to 180C.
For the topping, place nuts, seeds, and coconut flakes on a baking tray and roast for 10 minutes until golden and fragrant.
For the passionfruit sauce, cut passion fruit in half and place pulp and seeds in a small pot along with the honey. Bring to a simmer and remove from heat.
To serve, check the consistency of the porridge and add 1 to 2 cups of hot water to thin to your desired consistency. Top with toasted nut mix and passion fruit sauce.