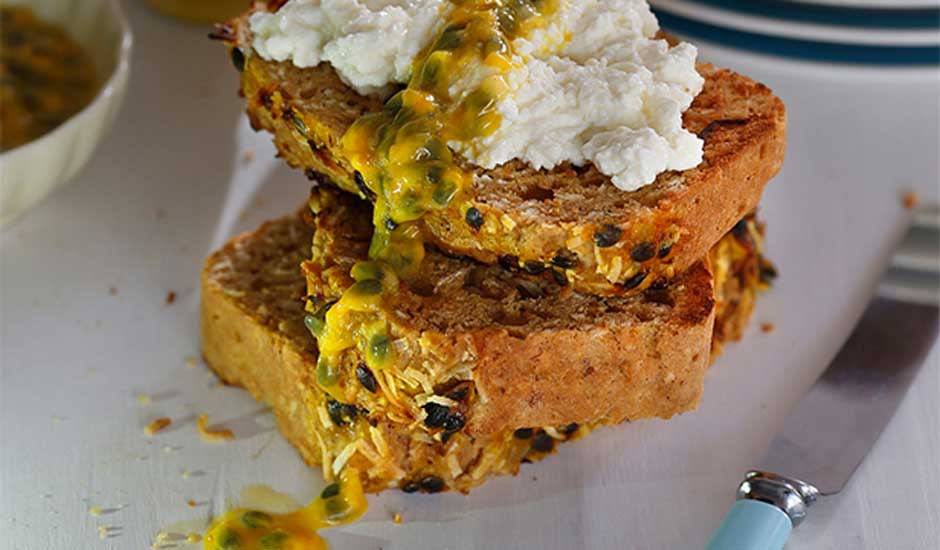 Ingredients
265g wholemeal self raisin flour
40g regular flour
1 tsp ground cinnamon
140g brown sugar
125ml milk
2 eggs, light beaten
50g butter, melted
1 over ripe banana
9 passion fruits
50g oats
50g shredded coconut
 spray olive oil
200g ricotta
Method
Preheat oven to 180 degrees. Spray a 11x21cm loaf pan with spray olive oil. Line the base and two opposite sides with non-stick baking paper, allowing it to over lap.
Sift the flours, cinnamon, and sugar into a large bowl. Place the milk, eggs, melted butter, banana in a medium mixing bowl. Pass 6-7 of the passionfruit pulp through a sieve to remove seeds and place into bowl with wet ingredients and stir until well combined. If you still have lumps of banana, use a hand mixer to break up any large pieces.
Combine wet and dry ingredients and stir, then add oats and shredded coconut. Stir until well combined. Spoon the mixture into the prepared pan and smooth the surface. Sprinkle over some left over passionfruit seeds and shredded coconut.
Bake in preheated oven for 45 minutes of until a skewer inserted into the centre comes out clean. Remove from oven and set aside in the pan for 5 minutes. Turn out onto a wire rack and cool completely.
Cut into slices and toast. Garnish with a scoop of ricotta and some fresh passionfruit pulp.