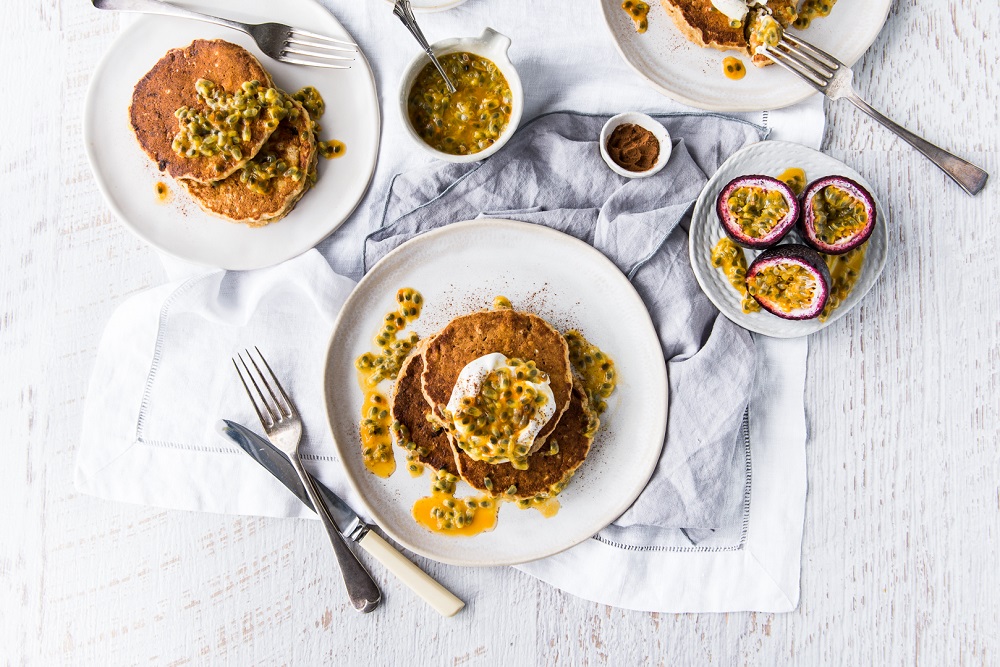 Ingredients
1 1/4 cups wholemeal flour (170 g)
1/2 cup quick oats (50 g)
2 tsp baking powder
1/4 tsp sea salt
1/2 tsp cinnamon
1 1/2 cups buttermilk (375 ml)
1 egg
1 Tbsp olive oil (20 ml), plus extra for cooking
1/2 cup mashed banana (125 g)
1/4 cup passionfruit pulp, divided (3 – 4 fresh passionfruit)
1 tsp vanilla paste or extract
To serve
Extra passionfruit
Maple syrup
Natural or coconut yoghurt
Method
Combine dry ingredients (flour through cinnamon) in a large bowl. Whisk together wet ingredients (buttermilk through vanilla) in a jug.
Pour wet ingredients into dry and stir until just combined. The mixture will be thick, with a few lumps.
Preheat a large skillet over medium heat. Brush pan with a bit of extra oil and pour in 1/4 cup of batter per pancake – allowing room to spread and not crowding the pan. Cook 2 – 3 minutes until small bubbles form on the surface and edges are golden.
Flip pancakes and cook another 2 – 3 minutes. Transfer to a plate and cover with foil, or keep warm in a low oven. Re-oil pan and repeat with remaining batter.
Serve with extra passionfruit pulp, yoghurt and maple syrup.
Tip:
Buttermilk can be substituted with 1 cup milk whisked with 1/2 cup natural yoghurt
Credit: Australian Passionfruit – www.aussiepassionfruit.com.au